Solar Window Insert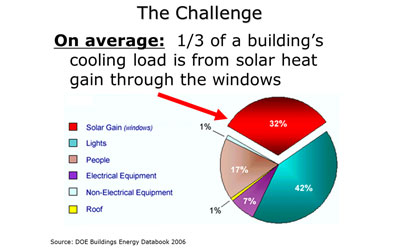 Clear-Wall is the developer & marketer of Clear-Wall Solar Window Insert - advanced solar control window film mounted on a lightweight aluminum frame that slides into window systems of all types 1/2" off the glass. By integrating the latest advancements in polymer technologies and window films, we provide customers the solution to heat loss and solar heat gain. Our motto is start with the skin of the building and work inward to maximize building efficiency.
The Solar Window Insert is designed to mitigate solar heat gain, increase insulation value with dead airspace & provide unobtrusive & simple installation. The benefits to a given facility are balanced temperatures from the perimeter to the core. This is a cost effective alternative to glass replacement or the complexity of window film applied directly on the glass. Paybacks of 6 months to 2 years are not uncommon with energy star efficiency performance exceeding that of dual pane glass. Customers enjoy additional benefits of soundproofing and air infiltration mitigation.
Prices range from $7.00 to $19.50 per square foot depending on the material used in the frame. Compatibility with the existing glass type to encourage maximum energy savings is a key objective of the process.
Call (800) 905-4940 and you'll be walked through the process of completing the Audit & Measurement forms.